Color: Dark, blueish red
Aroma: Fruity and spicy aroma with hints of cherry, dark chocolate, prunes and salvia.
Taste: Full-bodied, fresh and balanced complex flavor of the area's typical style with elements of barrel, blackberries, mocha and cranberries.
Food pairing: Goes well with tasty dishes of red meat, game, spicy pasta dishes and aged hard cheeses such as parmesan.

Production and maturation: La Prua is made by the appassimento method in which a large part of the grapes were dried for three weeks. The grapes are grown in a cool climate on the volcanic slopes of Monte Lessinis feet. It has been aged eight months in French oak barrels.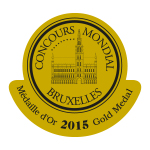 Origin: Italy
Region: Veneto
Classification: I.G.T Veneto
Varietal composition: Corvina