Raccolto Nero d'Avola Cabernet Sauvignon
Color: Dark red
Aroma: Fruity and spicy fresh aroma with hints of plum, black currant, licorice , dark chocolate and barrel.
Taste: Medium-bodied, well-structured taste of fresh fruit and a hint of spicyness, soft strive acids and discreet oak character, hints of licorice and violets.
Food pairing: Goes well with pasta and meat dishes, from pork to lamb, beef and game.

Production and maturation: The two varietals are fermented separately in stainless steel tanks. Nero d'Avola ferments during 5-6 days at around 25°C and Cabernet Sauvignon fermentation process is similar, only to differ in the temperature of fermentation which is slightly higher. During fermentation both parts of the must are daily overpumped.  After the separate malolactic fermentation in stainless steel tanks, half of Cabernet Sauvignon is matured for a period of time in oak, while Nero d'Avola is only matured in stainless steel tanks. When the wine has reached the satisfactory level of structure decided by the winemaker, the two parts of the Cabernet Sauvignon are blended. Thereafter the last blend is made of both Nero d'Avola and Cabernet Sauvignon which results in the final cuvée.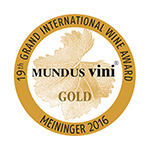 Origin: Italy
Region: Sicily
Classification: D.O.C Terre Siciliane
Varietal composition: Nero d'Avola Cabernet Sauvignon