Color: Dark ruby red.
Aroma: Fresh, spicy aroma with hints of ripe plums, ripe dark fruit and barrel.
Taste: Full-bodied with fresh flavor, soft tannins with spicy tones as well as hints of black currants, plums and barrel.
Food pairing: Grilled red meat, mainly beef and lamb. 

Production and maturation: The handpicked grapes are fermented separately by each variety before final blending. After blending the wine is matured in French oak for 6 months.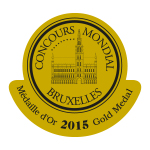 Origin: South Africa
Region: Western Cape
Classification: W.O Western Cape
Varietal composition: Cabernet Sauvignon, Shiraz, Pinotage.