Allegro Chardonnay Organic
Color: Bright yellow
Aroma: Youthful nose of ripe citrus fruit with hints of vanilla and oak.
Taste: Full-bodied with fruits displaying ripe citrus and apple fruit along with light buttery oaky notes.
Food pairing: Goes excellent with salads, fish, shellfish or simply enjoy on its own as an aperitif.

Production and maturation: The grapes are picked by hand and vinified using modern methods. Fermentation at 15 degrees in stainless steel tanks, after which a portion of the wine is aged in oak and the remaining part will be in contact with the lees for 4-6 months.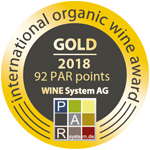 Origin:  Italy 
Region: Puglia     
Classification: IGT Puglia
Varietal composition: Chardonnay
79,95 DKK Pr. fl. v/6 stk. (75 cl.) 99,95 DKK Pr. fl. v/1 stk. (75 cl.)