Color: Dark red
Aroma: Luscious fresh aromas of dark berries with hints of plums and vanilla.
Taste: Allegro Primitivo is a balanced, full-bodied wine with a fresh and delicate taste of berry fruit, spicy tones of herbs and vanilla. 
Food pairing: Lamb, beef and game. 

Production and maturation: The Primitivo grapes are handpicked and organically grown.
The fermentation is done in stainless steel tanks with overpumping and délestage twice a day. Maceration of 10-12 days is later followed by a 3-4 months maturation on French oak.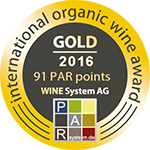 Origin: Italy
Region: Puglia
Classification: I.G.T Puglia
Varietal composition: Primitivo
79,95 DKK Pr. fl. v/6 stk. (75 cl.) 99,95 DKK Pr. fl. v/1 stk. (75 cl.)