Il Conte Montepulciano d´Abruzzo
Color:  Deep ruby red with a blueish edge.
Aroma: Fresh fragrance of berries with a light hint of vanilla and oak nuances of chocolate, cherries, blueberries and blackberries. 
Taste:  Medium-bodied with fresh acidity and a slightly spicy flavor accompanied by soft tannins, delicious berryfruit and a subtle oak character.
Food pairing:  Goes well with pasta, pizza, and any meat dish like pork, beef, game and even poultry.
Production and maturation:  Alcoholic fermentation around 25 ° C in stainless steel tanks with skin contact for 5 days with daily overpumping. After fermentation the wine is matured in French oak.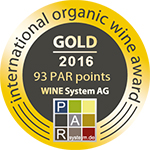 Origin: Italy
Region: Abruzzo
Classification: DOC Montepulciano d´Abruzzo
Varietal composition:  Montepulciano