Color: Pale yellow
Aroma:  Youthful aromas of ripe citrus fruit together with hints of oaky notes. 
Taste: Medium-bodied with a fresh dryness of citrus and apple fruit along with light buttery oaky notes.
Food pairing: Matches perfectly with salads, seafood or as an aperitif.

Production and maturation: The grapes are handpicked and fermented in stainless steel tanks at 15°C. After fermentation the wine is matured in oak.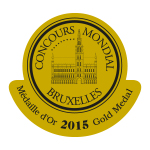 Origin: Italy
Region: Puglia
Classification: I.G.T Puglia
Varietal composition: Chardonnay