Color: Dark red.
Aroma: Seductive dark berries with spicy herbs and combined with notes of a lingering, well balanced toasty oak character. 
Taste: A full bodied wine with complexity and smooth tannins, dark berry fruit and a rich, long finish.
Food pairing: Yoga pairs excellent with red and white meat, game and pasta dishes. Best served at around 18C.

Production and maturation: The grapes are carefully selected and hand-picked from organically certified vineyards. Each varietal is vinified separately and final blend matured in oak.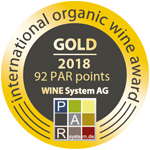 Origin: Italy
Region: Sicily
Classification: I.G.T  Terre Siciliane
Varietal composition: Syrah